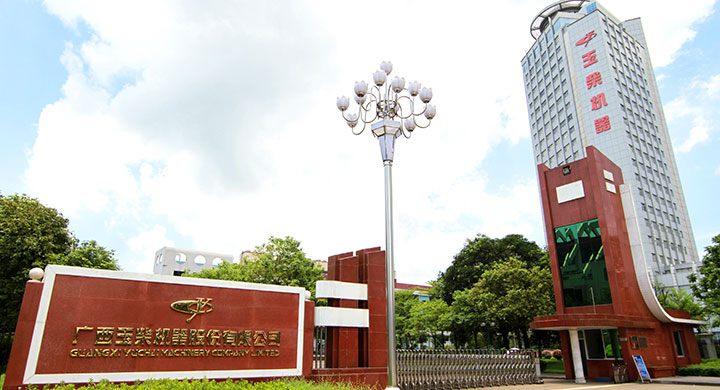 Guangxi Yuchai Machinery Co., Ltd. (hereinafter referred to as "Yuchai"), founded in 1951, was restructured from a state-owned company to a joint-stock one in 1992. In 1994, Yuchai (stock code NYSE: CYD) was listed on the main board of New York, being the first in the industry in China to go public overseas. The company is headquartered in Yulin, Guangxi Zhuang Autonomous Region, with 10 subsidiaries. Its production bases are located in Guangxi, Jiangsu, Anhui, and Shandong. It is the largest independent diesel engine manufacturer in China and a production base of internal combustion engines with a full range of models. Its annual sales revenue reaches over 20 billion yuan and its annual production capacity 600,000 engines.
Adhering to the business philosophy of "green development for harmonious and win-win result", Yuchai has shared the market, technology, achievements and development opportunities with all partners, and collaborated with OEMs, distributors, service stations and suppliers for mutual benefit.
Yuchai aims to build "a team of talents that are three-dimensional, professional and international". It has built a career development platform, and now boasts more than 1,300 employees in R&D, more than half of whom are masters, doctors or senior engineers. Also, there are 9 experts who enjoy the national special allowance, and 7 Guangxi Bagui Scholars and distinguished experts.
Yuchai is committed to "meeting the public's needs for power with its excellent and leading technology" and continuously increasing the value of engine products. It has designed a product line with horizontal layout and vertical development, and provided a product spectrum with the longest product chain, the widest product range and the highest adaptability in the industry, which incorporates 10 platforms, 30 series and over 2,000 varieties of products with a power ranging from 20 to 2,800 kW. Its products include diesel engine, gas engine, hybrid power system, and pure electric system, which are characterized by high power, high torque, high reliability, low fuel consumption, low noise, low emission, and high adaptability, and thus the first choice in China for trucks, buses, construction machinery, agricultural machinery, marine machinery, power generation machinery, special vehicles, passenger cars, etc. It has provided a strong impetus to the development of the Chinese economy and the world economy.
Yuchai adheres to independent innovation and stands constantly to meet the challenge in technology through its unique technological innovation system. In the field of engine research, it has always exerted a leading role and launched the green revolution in the engine industry by being the first to produce engines that meet the standards for China IV, China V and China VI. It has more than 3,600 authorized patents, and ranked first in Guangxi in this regard for 12 consecutive years. It has filled the gap in China in terms of engine technology and ten of its inventions obtained the PCT international patent license. It has undertaken more than 10 national "863" research projects and other national-level projects, and taken the lead in revising over 50 national standards. Its projects such as the "key technologies and industrialization of energy-saving and environmentally friendly diesel engines" won the National Science and Technology Award six times.
Yuchai has a national-level corporate technology center, a national engineering laboratory, three research and development bases respectively in Yulin, Nanning and Europe, a national accredited laboratory, a post-doctoral research center, a corporate academician and expert center, and a national engineering laboratory for internal combustion engines. It has established a joint development center as an international frontier research base in cooperation with more than 40 domestic and foreign scientific research institutions.
It has the largest and most advanced casting center in Asia, the most efficient machining and assembling line in the industry, and Yuchai Rapid Manufacturing Base, a state key laboratory for advanced forming technology and equipment. Its moldless rapid prototyping technology and many other technological achievements are up to the world-class standard, and its project "digital casting workshop for large and medium-sized engine blocks" ran for the national intelligent manufacturing award in 2015. In the manufacturing process, it has followed the idea of "zero defect and zero tolerance", and carried out the life-cycle reliability management, so as to ensure the stable and reliable quality of products. It has been nominated for China Quality Award for two consecutive years, and established its own lean production system (YCPS) to comprehensively enhance its product feature, manufacturing power, system, marketing and brand image.
"A brand image is built on professionalism and value created on good service." Yuchai has established a marketing and management system covering product sales, application development, after-sales service and accessory sales. It has a service network with the widest coverage, the most outlets, the smallest service radius, the largest duration of "three guarantees" and the shortest response time in the industry. It has relied on marketing, technical marketing, and service innovation to enhance the value it creates for customers, and provided "quick and sincere" services for users at home and abroad. It has 28 offices in China, 14 offices overseas, 12 general engine management departments, 10 sectors for marine electric equipment, 182 overseas service agencies, more than 3,000 service stations, and more than 5,000 outlets to sell parts and components.
In future, Yuchai will seek constant progress based on high standard, quality, credit and technology, make constant innovation and breakthrough oriented on the R&D and manufacturing of engines and key components, promote transformation and upgrading by starting a new undertaking, and "strive for a better life with professionalism and power."