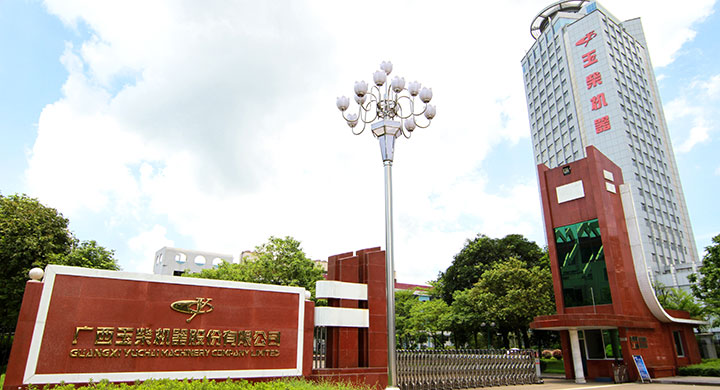 Guangxi Yuchai Machinery Co., Ltd. (hereinafter referred to as "Yuchai"), founded in 1951, is the first sino-foreign joint venture in the domestic industry to be listed abroad and is the president unit of China Internal Combustion Engine Industry Association, with the products exported to more than 180 countries and regions in Asia, Europe, America and Africa. Yuchai is headquartered in Yulin, Guangxi Zhuang Autonomous Region, with 11 subsidiaries. In addition, we boast production bases located in Guangxi, Jiangsu, Anhui, Shandong, etc., and joint R&D centers and marketing branches overseas. Our consolidated annual sales revenue reaches over RMB 30 billion with an annual production capacity of up to 600,000 engines.
With the mission of "achieving customer value and driving a better life", Yuchai is committed to meeting the public demand for power by excellence and leadership and continuously increasing the value of engine products. We have designed a product line with a horizontal layout and vertical development, and provided a product spectrum with a complete range of products for both traditional and new energy power applications, which incorporates 14 platforms, 49 series and over 2,000 varieties of products with a power ranging from 15 to 4,200kW. Our products include diesel engines, gas engines, fuel cells, hybrid power system, pure electric system, engine range extenders, electric drive axle, etc., which are characterized by high power, high torque, high reliability, low fuel consumption, low noise, low emission and high adaptability as well as professional subdivision, and thus the first choice in China for trucks, buses, construction machinery, agricultural machinery, marine machinery, power generation machinery, special vehicles, pickup truck, etc. Therefore, we provided a strong impetus to the development of the Chinese economy and the world economy.
Yuchai adheres to independent innovation and stands constantly to meet the challenge in technology through the unique technological innovation system. In the field of engine research, we have always exerted a leading role and launched the green revolution in the engine industry by being the first to produce engines that meet the standards for China I~VI. We have more than 5,300 authorized patents and ranked first in this regard for 15 consecutive years. 22 of our inventions obtained the PCT international patent license. We have undertaken more than 18 national "863" research projects and other national-level projects, and taken the lead in preparing/revising over 95 international, national, and industry standards for internal combustion engines. Six project results of Yuchai including the "Key Technology of Energy-saving Environment-friendly Diesel Engines and Commercialization" have won the national prizes of scientific progress.
Yuchai has already set up three R&D bases in Yulin, Nanning, and Europe, and enjoys a national-level corporate technology center, a national engineering laboratory for internal combustion engines, a national accredited laboratory, a post-doctoral research center, and a corporate academician and expert center. We have established a joint development center as an international frontier research base in cooperation with more than 40 domestic and foreign scientific research institutions. In the 2019 National Enterprise Technology Center Ranking, Yuchai was ranked 5th in the country, topping the industry.
We have an advanced intelligent factory based on Industry 4.0, and have built Yuchai Rapid Manufacturing Base, a state key laboratory for advanced forming technology and equipment. The moldless rapid prototyping technology and many other technological achievements are up to the world-class standard, and the project "digital casting workshop for large and medium-sized engine cylinder blocks" ran for the national intelligent manufacturing award in 2015. In the China-VI Phase, more than RMB 3 billion was invested to upgrade the production line to improve production efficiency and quality. In the manufacturing process, we follow the idea of "zero defect and zero tolerance", and carry out the life-cycle reliability management, so as to ensure the stable and reliable quality of products. And we have been nominated for China Quality Award for two consecutive years.
"Forging brand by professionalism, creating value by quality service" Yuchai has established a marketing and management system covering product sales, application development, after-sales service and accessory sales. With the leading independent spare parts service network in the domestic industry and a perfect service network in the world, we have established 27 commercial vehicle regions, 15 general-purpose engine regions, 15 marine and G-drive engine regions, more than 3,000 service stations, and more than 5,000 spare parts sales outlets in China, and is committed to providing customers with "quick and sincere" services for customers. With 13 offices, 228 service agents and 846 service outlets in Asia, America, Africa and Europe, we are able to achieve global co-insurance. Relying on marketing, technical marketing, and service innovation to provide "quick and sincere" services for users at home and abroad, we are continuously creating greater value for our customers.
In the future, Yuchai will, according to the 2025 Strategic Plan, focus on building Quality Yuchai, Technical Yuchai and International Yuchai. We plan to take 5 years to surpass our domestic counterparts and strive to become the leader in China's internal combustion engine industry, and to take 10 years to become a world-renowned engine manufacturer, realizing our vision of "becoming a global professional engine navigator".